20061021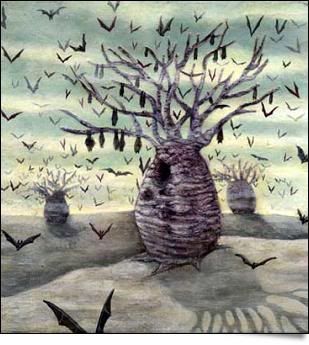 Bat Canyon


Illustration | Jaime Zollars
[ skrevet av ladislav pekar ]





20061020 Currently Reading...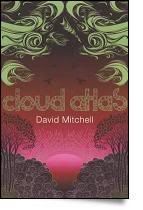 Cloud Atlas


by David Mitchell



Synopsis

: In a bold and unconventionally structured work, David Mitchell combines the stories of six individuals to create a masterful whole, which is both thought provoking and incredibly exhilarating.

The morality and ambitions of a reluctant voyager crossing the Pacific in 1850; a disinherited composer blagging a precarious livelihood in between-the-wars Belgium; a high-minded journalist in Governor Reagan's California; a vanity publisher fleeing his gangland creditors; a genetically modified 'dinery server' on death-row; and Zachry, a young Pacific Islander witnessing the nightfall of science and civilisation echo and impact on each others stories and point to a terrifying vision of the world's future and challenges our ability to shape not only our destiny but those that will come after us.



First Line

:

Beyond the Indian hamlet, upon a forlorn strand, I happened on a trail of recent footprints.
[ skrevet av ladislav pekar ]





20061015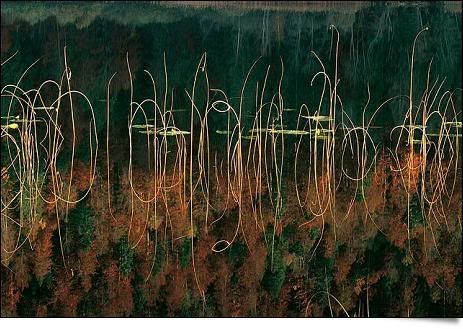 Roseaux en automne


Photography | Michel Loup
[ skrevet av ladislav pekar ]





20061014 Currently Reading...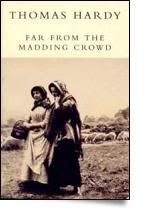 Far From the Madding Crowd


by Thomas Hardy



Synopsis

: Independent and spirited Bathsheba Everdene has come to Weatherbury to take up her position as a farmer on the largest estate in the area. Her bold presence draws three very different suitors: the gentleman-farmer Boldwood, soldier-seducer Sergeant Troy and the devoted shepherd Gabriel Oak. Each, in contrasting ways, unsettles her decisions and complicates her life, and tragedy ensues, threatening the stability of the whole community. Hardy's novel of swift passion and slow courtship is imbued with his evocative descriptions of rural life and landscapes, and with unflinching honesty about sexual relationships.

The first of his works set in his fictional Wessex countryside in southwest England,

Far from the Madding Crowd

was Thomas Hardy's breakthrough work. Though it was first published anonymously in 1874, the quick and tremendous success of

Far from the Madding Crowd

persuaded Hardy to give up his first profession, architecture, to concentrate on writing fiction. The text is based on the authoritative Wessex Edition of 1912, revised and corrected by Hardy himself.



First Line

:

When Farmer Oak smiled, the corners of his mouth spread till they were within an unimportant distance of his ears, his eyes were reduced to chinks, and diverging wrinkles appeared round them, extending upon his countenance like the rays in a rudimentary sketch of the rising sun.
[ skrevet av ladislav pekar ]





20061012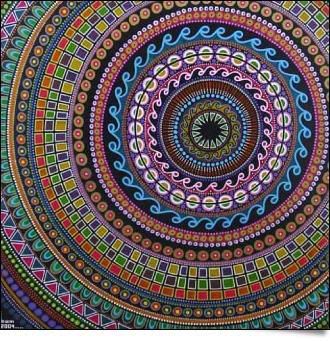 from

Paint - Crispy Mandalas

, 2002-2006
Graphic Design | MWM Graphics
[ skrevet av ladislav pekar ]





20061011 The Man Booker Prize 2006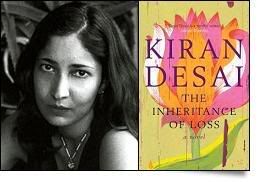 India's Desai is youngest woman Booker Prize winner



LONDON (Reuters) - Indian novelist Kiran Desai succeeded on Tuesday where her mother failed and won the Booker Prize, the youngest woman ever to capture one of the world's most prestigious literary awards.

Desai, whose mother and fellow writer Anita was three times shortlisted for the Booker, won the 50,000 pound prize at her first attempt for her sweeping novel "The Inheritance of Loss". She has just turned 35.

"To my mother I owe a debt so profound. This book feels as much hers as it does mine," Desai said after accepting her prize.

"It was written in her company and in her wisdom and kindness," the overwhelmed author said. "I really owe her this book so enormously."

But she did not get to immediately share news of her triumph with her mother.

"She went to visit my uncle, her brother, who lives in a Tibetan refugee settlement in a village which has no phone and no television," she told reporters afterwards. "She is probably sleeping very peacefully right now."

"My mother told me never to be a writer as it is such a difficult profession. It is so hard," she added.

Desai, who divides her time between New York and New Delhi, said: "I have an Indian passport and given what the political climate has been in the United States, I feel more and more Indian."

"BREADTH AND WISDOM"

Chairwoman of the judges Hermione Lee said: "It was a magnificent novel of humane breadth and wisdom, comic tenderness and powerful political acuteness."

Picking from a shortlist of relative unknowns after rejecting a string of literary heavyweights, Lee said "the winner was chosen after a long, passionate and generous debate".

The previous youngest woman winner had been Desai's fellow Indian Arundhati Roy, who won the prize in 1997 when just a month short of her 36th birthday.

The youngest ever winner was Ben Okri who landed the Booker in 1991 at the age of 32.

Desai's novel tells the story of an embittered judge who wants to retire in peace in his crumbling house in the Himalayas. But his life is turned upside down with the arrival of his orphaned granddaughter.

The judges said Desai, who was educated in India, England and the United States, had taken eight years to write the novel that has now catapulted her into the literary limelight.

She fought off stiff competition from Sarah Waters' "The Night Watch", Edward St Aubyn's "Mother's Milk," Kate Grenville's "The Secret River," M.J. Hyland's "Carry Me Down" and Hisham Matar's "In The Country of Men."

The prize, founded in 1969, rewards the best book of the year by a writer from Britain, Ireland or a Commonwealth country. It guarantees the winner instant literary fame and a place in bestseller lists around the globe.

In the past, the Booker shortlist has been attacked by critics who argue that the winners are all too often turgid tomes that would only appeal to literary academics.

The award, sponsored by the futures brokers Man Group, invariably stirs controversy.

This year the big shock was the omission of leading authors and hotly fancied contenders like Peter Carey and David Mitchell.
[ skrevet av ladislav pekar ]





20061009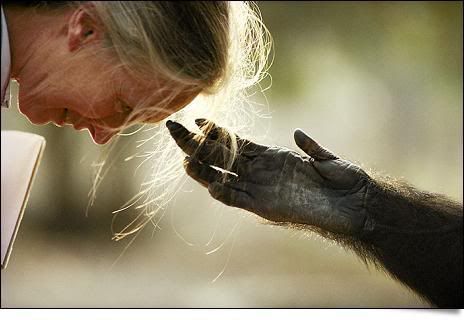 Jane and Jou Jou

, Brazzaville Zoo, Congo, 1990
Photography | Michael 'Nick' Nichols
[ skrevet av ladislav pekar ]





20061006 Currently Reading...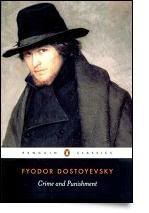 Crime and Punishment


by Fyodor Dostoevsky



Synopsis

: Through the story of the brilliant but conflicted young Raskolnikov and the murder he commits, Fyodor Dostoevsky explores the theme of redemption through suffering.

Crime and Punishment

put Dostoevsky at the forefront of Russian writers when it appeared in 1866 and is now one of the most famous and influential novels in world literature.

The poverty-stricken Raskolnikov, a talented student, devises a theory about extraordinary men being above the law, since in their brilliance they think "new thoughts" and so contribute to society. He then sets out to prove his theory by murdering a vile, cynical old pawnbroker and her sister. The act brings Raskolnikov into contact with his own buried conscience and with two characters — the deeply religious Sonia, who has endured great suffering, and Porphyrius, the intelligent and discerning official who is charged with investigating the murder — both of whom compel Raskolnikov to feel the split in his nature. Dostoevsky provides readers with a suspenseful, penetrating psychological analysis that goes beyond the crime — which in the course of the novel demands drastic punishment — to reveal something about the human condition: The more we intellectualize, the more imprisoned we become.



First Line

:

One sultry evening early in July a young man emerged from the small furnished lodging he occupied in a large five-storied house in the Pereoulok S__, and turned slowly, with an air of indecision, Towards the K__ bridge.
[ skrevet av ladislav pekar ]





20061004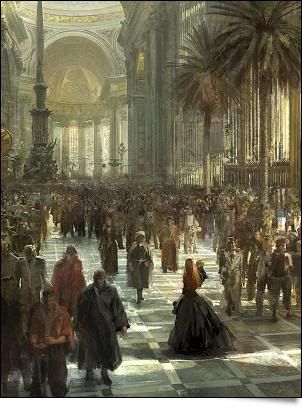 Hovership Hall,

from the

Finished Sketches

album
Digital Art | Craig Mullins
[ skrevet av ladislav pekar ]





20061003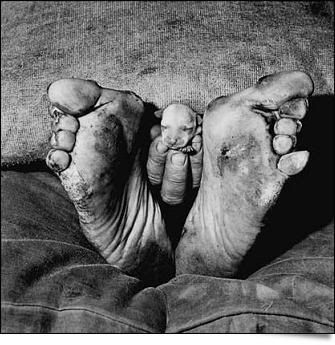 Puppy Between Feet

, from

Outland

, 1999
Photography | Roger Ballen
[ skrevet av ladislav pekar ]





20061002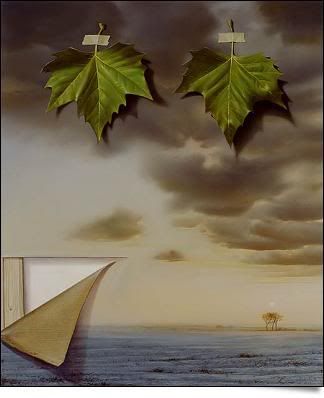 Immergrün,

1993, oil on canvas
Paintings | Siegfried Zademack
[ skrevet av ladislav pekar ]





20061001 Currently Reading...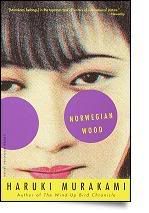 Norwegian Wood


by Haruki Murakami



Synopsis

: Toru, a quiet and preternaturally serious young college student in Tokyo, is devoted to Naoko, a beautiful and introspective young woman, but their mutual passion is marked by the tragic death of their best friend years before. Toru begins to adapt to campus life and the loneliness and isolation he faces there, but Naoko finds the pressures and responsibilities of life unbearable. As she retreats further into her own world, Toru finds himself reaching out to others and drawn to a fiercely independent and sexually liberated young woman.

A poignant story of one college student's romantic coming-of-age,

Norwegian Wood

takes us to that distant place of a young man's first, hopeless, and heroic love.



First Line

:

I was thirty-seven then, strapped in my seat as the huge 747 plunged through dense cloud cover on approach to the Hamburg airport.
[ skrevet av ladislav pekar ]