20061011 The Man Booker Prize 2006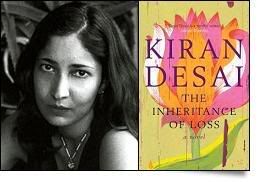 India's Desai is youngest woman Booker Prize winner



LONDON (Reuters) - Indian novelist Kiran Desai succeeded on Tuesday where her mother failed and won the Booker Prize, the youngest woman ever to capture one of the world's most prestigious literary awards.

Desai, whose mother and fellow writer Anita was three times shortlisted for the Booker, won the 50,000 pound prize at her first attempt for her sweeping novel "The Inheritance of Loss". She has just turned 35.

"To my mother I owe a debt so profound. This book feels as much hers as it does mine," Desai said after accepting her prize.

"It was written in her company and in her wisdom and kindness," the overwhelmed author said. "I really owe her this book so enormously."

But she did not get to immediately share news of her triumph with her mother.

"She went to visit my uncle, her brother, who lives in a Tibetan refugee settlement in a village which has no phone and no television," she told reporters afterwards. "She is probably sleeping very peacefully right now."

"My mother told me never to be a writer as it is such a difficult profession. It is so hard," she added.

Desai, who divides her time between New York and New Delhi, said: "I have an Indian passport and given what the political climate has been in the United States, I feel more and more Indian."

"BREADTH AND WISDOM"

Chairwoman of the judges Hermione Lee said: "It was a magnificent novel of humane breadth and wisdom, comic tenderness and powerful political acuteness."

Picking from a shortlist of relative unknowns after rejecting a string of literary heavyweights, Lee said "the winner was chosen after a long, passionate and generous debate".

The previous youngest woman winner had been Desai's fellow Indian Arundhati Roy, who won the prize in 1997 when just a month short of her 36th birthday.

The youngest ever winner was Ben Okri who landed the Booker in 1991 at the age of 32.

Desai's novel tells the story of an embittered judge who wants to retire in peace in his crumbling house in the Himalayas. But his life is turned upside down with the arrival of his orphaned granddaughter.

The judges said Desai, who was educated in India, England and the United States, had taken eight years to write the novel that has now catapulted her into the literary limelight.

She fought off stiff competition from Sarah Waters' "The Night Watch", Edward St Aubyn's "Mother's Milk," Kate Grenville's "The Secret River," M.J. Hyland's "Carry Me Down" and Hisham Matar's "In The Country of Men."

The prize, founded in 1969, rewards the best book of the year by a writer from Britain, Ireland or a Commonwealth country. It guarantees the winner instant literary fame and a place in bestseller lists around the globe.

In the past, the Booker shortlist has been attacked by critics who argue that the winners are all too often turgid tomes that would only appeal to literary academics.

The award, sponsored by the futures brokers Man Group, invariably stirs controversy.

This year the big shock was the omission of leading authors and hotly fancied contenders like Peter Carey and David Mitchell.
[ skrevet av ladislav pekar ]