20050601 Currently Reading...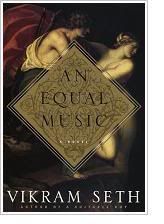 An Equal Music


by

Vikram Seth





Synopsis

: While a music student in Vienna, violinist Michael Holme falls in love with pianist Julia McNicholl. They play together in a string trio, but when Michael has a nervous breakdown because of tensions with his stern and demanding violin teacher he abruptly leaves Vienna - and Julia - without warning. When, after some months pass, he tries to contact Julia again, he gets no reply. Ten years later, still in love with her, he meets her again in London when she attends a concert he is giving with his string quartet, the Maggiore. Still a performing pianist, she is now married to an American banker, has a child, and because of an auto-immune disease, is gradually going deaf. Unable to resist the power of their past, they begin to see each other again, this time under the shadow of Julia's marriage and her tragic hearing loss. Julia agrees to tour Vienna and Venice with Michael and the Maggiore Quartet and for a brief, magical time everything seems possible.

A tour de force of poetic, impassioned writing, An Equal Music is an unforgettable tale of love lost and nearly regained, its events unfolding in the dramatic settings of contemporary London, Vienna, and Venice. Brilliantly interweaving themes of loss, longing, and the power of music, Vikram Seth has created a deeply moving story about the strands of passion that run through all our lives.



First Line

:

The branches are bare, the sky tonight a milky violet.








Suggested Listening

:
_ Johann Sebastian Bach: English Suites; Partita no. 3 in E Major, BWV 1006;

An Wasserflüssen Babylon

, BWV 653 (performed by the Leipzig Chorale); The Art of Fugue.
_ Ludwig van Beethoven: Piano Trio in C Minor, op. 1, no. 3; Quartet no. 14 for Strings in C Sharp Minor, op. 131.
_ Franz Joseph Haydn: String Quartet in A Major, op. 20, no. 6.
_ Wolfgang Amadeus Mozart: Quartet no. 14 in G Major, K. 387; Sonata in E Minor for Violin and Piano, K. 304 or 330E.
_ Franz Schubert: Quartet for Strings no. 12 in C Minor, D. 703; Piano Quintet in A, D. 667;

The Trout

; String Quintet in C Major, D. 956;

Die Liebe

, D. 522.
_ Ralph Vaughan Williams:

The Lark Ascending

.
_ Antonio Vivaldi: Manchester Sonatas.
[ skrevet av ladislav pekar ]