20050402 Currently Reading...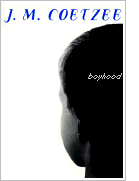 Boyhood: Scenes from Provincial Life


by

J.M. Coetzee





Synopsis

: Coetzee's memoir of growing up in South Africa during the 1940s and 1950s is told in the third person, providing a level of ironic distance that is characteristic of his writing but which does not prevent the reader from experiencing the often painful humanity of his characters. Coetzee grew up in a new development north of Cape Town, tormented by guilt and fear. With a father he did not respect, and a mother he both adored and resented, he led a double life – at school the brilliant and well-behaved student, at home the princely despot, always terrified of losing his mother's love. His first encounters with literature, the awakenings of sexual desire, and a growing awareness of apartheid left him with baffling questions; and only in his love of the high veld ("farms are places of freedom, of life") could he find a sense of belonging.



First Line

:

They live on a housing estate outside the town of Worcester, between the railway line and the National Road.
[ skrevet av ladislav pekar ]