20040823 Edvard Munch's Masterpieces Stolen

Armed robbers entered the Munch Museum in Oslo on Sunday the 22nd and took the masterpieces Skrik (The Scream) and Madonna. Worth millions of dollars, the pictures are among Munch's best-known, even though he produced several versions of both 1893 works. The wooden frames of the paintings were found smashed and scattered along an Oslo street and the car was separately found abandoned a few kilometers away with no trace of the paintings.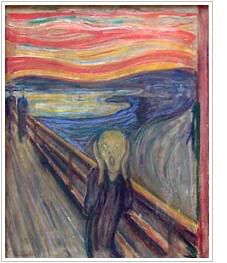 Skrik, 1893
Tempera on board 83.5 x 66 cm

Munch's most famous work has gained enormously in popularity, especially since World War II. Perhaps the existential fear here rendered by the artist has become more widespread in recent decades?

In the foreground, on a road with a railing along it, we see a figure: his hands raised to his head, eyes staring, mouth gaping. Further back are two gentlemen in top hats, and behind them a landscape of fjord and hills. The first time Munch described the experience which gave rise to this painting was in Nice, writing in his literary diary. The entry for 22 January 1892 reads:

I was walking along the road with two friends.
The sun was setting.
I felt a breath of melancholy -
Suddenly the sky turned blood-red.
I stopped, and leaned against the railing, deathly tired -
looking out across the flaming clouds that hung like blood and a sword
over the blue-black fjord and town.
My friends walked on - I stood there, trembling with fear.
And I sensed a great, infinite scream pass through nature.

When art historians call Munch, together with artists like Van Gogh, "the founder of Expressionism", it is because of a picture such as The Scream. The work depicts not so much an incident or a landscape as a state of mind. The drama is an inner one, and yet the subject is firmly anchored in the topography of Oslo - the view is from Nordstrand towards the two bays at the head of the Oslofjord, with Holmenkollen in the background. The evening landscape has been distilled into an abstract rhythm of wavy lines. The road with its railing, leading diagonally inwards, creates a powerful pull of perspective in the composition, and intensifies the disquieting atmosphere in the picture. Several sketches and preparatory studies for this painting survive. The motif also features in Munch's graphic works.















Madonna, 1893-94
Oil on canvas 90 x 68.5 cm

A naked woman lies on her back with one hand under her neck and the other in the small of her back. Her eyes are closed, and her long, dark hair flows down over her shoulders and arms. Around her head is a red halo, echoed by curving lines in the background. Munch had assimilated important influences during his years in Paris and Berlin. In the book Das Werk des Edvard Munch, the Polish writer Stanislaw Przybyszewski describes this painting as "the moment Life and Death shake hands".

In the lithographic version, Munch emphasises the erotic aspect further by adding round the composition a frame swimming with sperm cells, and an embryo in one corner. Woman is both elevated and abased. As a Madonna with the red halo of martyrdom she is an object of religious devotion, yet at the same time she is man's sex object. Sensual satisfaction is likened to the moment of death. Characteristic of the 1890s are both the simplification of form and also the rhythmical wavy lines which are repeated in the figure and the surrounding areas.
[ skrevet av ladislav pekar ]





20040820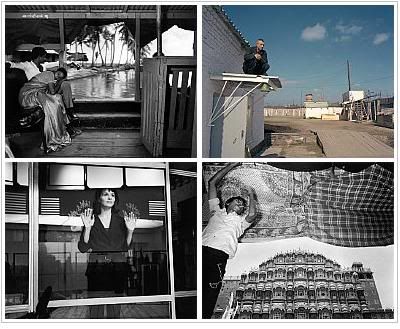 Photography | Carl De Keyzer
[ skrevet av ladislav pekar ]





20040819 Word of the Day

Cockaigne \kah-KAYN\, noun:
An imaginary land of ease and luxury.

Outside, in the dark, a wobbly patch of life upon the blue snow, the deer perhaps browsed, her soft blob of a nose rapturously sunk in the chilly winter greenery, her modest brain-stem steeped in some dream of a Cockaigne for herbivores.
-- John Updike, Toward the End of Time

Everyone was seeking renewal, a golden century, a Cockaigne of the spirit.
-- Umberto Eco, Foucault's Pendulum

Cockaigne comes from Middle English cokaygne, from Middle French pais de cocaigne (land of plenty), ultimately adapted or derived from a word meaning cake.

References to Cockaigne are prominent in medieval European lore. George Ellis, in his Specimens of Early English Poets (1790), printed an old French poem called The Land of Cockaign (13th century) where "the houses were made of barley sugar and cakes, the streets were paved with pastry, and the shops supplied goods for nothing."
[ skrevet av ladislav pekar ]





20040818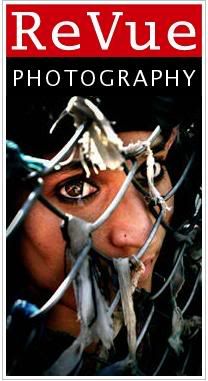 [ skrevet av ladislav pekar ]





20040816 The First and Last Freedom Questions and Answers

Q.6 on Loneliness: I am beginning to realize that I am very lonely. What am I to do?

Jiddu Krishnamurti: The questioner wants to know why he feels loneliness? Do you know what loneliness means and are you aware of it? I doubt it very much, because we have smothered ourselves in activities, in books, in relationships, in ideas that really prevent us from being aware of loneliness. What do we mean by loneliness? It is a sense of being empty, of having nothing, of being uncertain, with no anchorage anywhere. It is not despair, nor hopelessness but a sense of void, a sense of emptiness and a sense of frustration. I am sure we have all felt it, the happy and the unhappy, the very, very active and those who are addicted to knowledge. They all know this. It is the sense of real inexhaustible pain, a pain that cannot be covered up, though we do try to cover it up.

Let us approach this problem again to see what is actually taking place, to see what you do when you feel lonely. You try to escape from your feeling of loneliness, you try to get on with a book, you follow some leader, or you go to a cinema, or you become socially very, very active, or you go and worship and pray, or you paint, or you write a poem about loneliness. That is what is actually taking place. Becoming aware of loneliness, the pain of it, the extraordinary and fathomless fear of it, you seek an escape and that escape becomes more important and therefore your activities, your knowledge, your gods, your radios all become important, don't they? When you give importance to secondary values, they lead you to misery and chaos; the secondary values are inevitably the sensate values; and modern civilization based on these gives you this escape - escape through your job, your family, your name, your studies, through painting etc; all our culture is based on that escape. Our civilization is founded on it and that is a fact.

Have you ever tried to be alone? When you do try, you will feel how extraordinarily difficult it is and how extraordinarily intelligent we must be to be alone, because the mind will not let us be alone. The mind becomes restless, it busies itself with escapes, and so what are we doing? We are trying to fill this extraordinary void with the known. We discover how to be active, how to be social; we know how to study, how to turn on the radio. We are filling that thing which we do not know with the things we know. We try to fill that emptiness with various kinds of knowledge, relationship or things. Is that not so? That is our process, our existence. Now when you realize what you are doing, do you still think you can fill that void? You have tried every means of filling this void of loneliness. Have you succeeded in filling it? You have tried cinemas and you did not succeed and therefore you go after your gurus and your books or you become socially active. Have you succeeded in filling it or have you merely covered it up? If you have merely covered it up, it is still there; therefore it will come back. If you are able to escape altogether then you are locked up in an asylum or you become very, very dull. That is what is happening in the world.

Can this emptiness, this void, be filled? If not, can we run away from it, escape from it? If we have experienced and found one escape to be of no value, are not all other escapes therefore of no value? It does not matter whether you fill the emptiness with this or with that. So-called meditation is also an escape. It does not matter much that you change your way of escape.

How then will you find what to do about this loneliness? You can only find what to do when you have stopped escaping. Is that not so? When you are willing to face what is - which means you must not turn on the radio, which means you must turn your back to civilization - then that loneliness comes to an end, because it is completely transformed. It is no longer loneliness. If you understand what is then what is is the real. Because the mind is continuously avoiding, escaping, refusing to see what is it creates its own hindrances. Because we have so many hindrances that are preventing us from seeing, we do not understand what is and therefore we are getting away from reality; all these hindrances have been created by the mind in order not to see what is. To see what is not only requires a great deal of capacity and awareness of action but it also means turning your back on everything that you have built up, your bank account, your name and everything that we call civilization. When you see what is, you will find how loneliness is transformed.
[ skrevet av ladislav pekar ]





20040812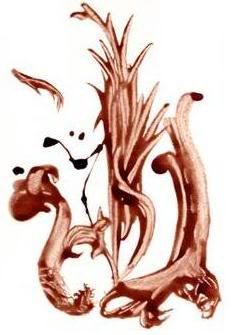 When Your Love is Here
menstrual blood and acrylic on paper, by
Vanessa Tiegs
[ skrevet av ladislav pekar ]





20040808

Photography | Philip Lee Harvey
[ skrevet av ladislav pekar ]





20040807 Pickings [ii] from LINKDUMP.be


http://w1.461.telia.com/~u46103335/euro.html
http://www.atomfilms.shockwave.com/contentPlay/shockwave.jsp
http://www.blueray.com/dictionary/
http://www.dietyl.mine.nu/ooh_oooh/karameller/best_toilet_ever.jpg
http://www.ebaumsworld.com/honda-ad.html
http://www.fasco-csc.com/works/viridian/index_e.php
http://www.hallmundur.com/goodle/goodle.htm
http://www.luminescent.org
http://www.shiftedreality.com/cgi-bin/imagefolio/imageFolio.cgi
http://www.wagenschenke.ch
http://www.wheredidthetimego.com
http://www.worstoftheweb.com/
http://www.zanorg.com/prodperso/indian.htm
[ skrevet av ladislav pekar ]





20040805 Henri Cartier-Bresson, 1908 - 2004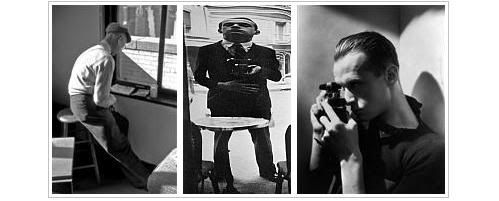 PARIS, France (AP) -- Legendary French photographer Henri Cartier-Bresson, who traveled the world for more than a half century capturing human drama with his camera, has died at age 95.

Cartier-Bresson shot for Life, Vogue and Harper's Bazaar magazines, and his work inspired generations of photographers. Cartier-Bresson became a French national treasure, though he was famously averse to having his own picture taken or to giving interviews.

The French Culture Ministry said Cartier-Bresson died Monday and that funeral services were held Wednesday. Media reports said he died in l'Ile-sur-Sorgue in the rural Vaucluse region in southeastern France.

"He was perhaps the greatest photographer of the 20th century," said John Morris, who first met Cartier-Bresson at the door of Paris' Hotel Scribe five days after the Germans left the city at the end of World War II.

Later when Morris was executive editor of Magnum Photos, Cartier-Bresson worked with him. They remained lifelong friends.

Gary Knight, managing director of the cooperative photo agency, VII, called Cartier-Bresson one of the most influential photographers of all time.

"He inspired people, and he defined photography at that crucial period when small cameras were coming into fashion and its entire nature was changing," Knight said.

Whether recording the funeral of Mahatma Gandhi in India or Henri Matisse at home, Cartier-Bresson sought to render the feeling of the moment with his distinctive classical style and penchant for geometrical composition.

"In whatever one does, there must be a relationship between the eye and the heart," he once said in a rare interview. "With the one eye that is closed, one looks within, with the other eye that is open, one looks without."

With his uncanny sense of timing and intuition, Cartier-Bresson captured the presence of places and the cultures of people as distinct as William Faulkner and Chinese revolutionaries.

He disdained arranged photographs and artificial settings and said photographers should shoot accurately and quickly.

His concept of photography centered on what he described as "the decisive moment" -- the moment evoking the ultimate significance of a given situation as all the external elements fall perfectly into place.

Cartier-Bresson shot with a Leica, the quietest of cameras, working only with black and white film, and notably, without a flash. Thrusting a subject in the limelight, he once said, was a sure way to destroy it.

He also opposed cropping pictures, saying it diluted the picture's meanings.

While most of his international fame was generated from worldwide exhibitions and publications including Harper's Bazaar, Cartier-Bresson gained recognition from two documentary films he made about medical aid to the loyalists in the Spanish Civil War and about French prisoners of war returning home at the end of World War II.

Cartier-Bresson was born August 22, 1908, in Chanteloup outside Paris to a wealthy textile family.

The eldest of three children, he was interested mainly in painting. At 20, he turned his back on the lucrative family business to study art.

In 1930, with a brownie box camera, he started dabbling in photography. Two years later, armed with his Leica, he began a series of photo expeditions to the French Ivory Coast, Poland, Czechoslovakia, Austria, Germany and Italy.

After publishing photos from his travels in several major magazines, Cartier-Bresson had his first exhibition in Madrid in 1933. Later that year he had the first of several major shows in New York.

The brilliant, pioneering shots of the 1930s captured the urban scene, trapping momentary visual delights of life in motion.

Critics said his most brilliant photograph was Behind the Gare Saint-Lazare, which depicts a man leaping over a puddle and frozen in mid-air, with his shadow forming a symmetrical V contrasting to the vertical fence above the railroad tracks.

Rue Mouffetard, a poignant shot of a grinning youngster carrying two bottles of wine down the Left Bank market street, became one of his most sought-after photos.

Cartier-Bresson also was drawn to the cinema and worked as an assistant director to esteemed French director Jean Renoir on his classic "The Rules of the Game."

He then turned his documentary talents to the Spanish Civil War. At the outbreak of World War II, he was drafted into the French army where he was a corporal in a film and photo unit captured in the Vosges Mountains in June 1940.

After nearly three years in German prison camps, Cartier-Bresson escaped and made his way back to Paris where he divided his time between commercial photography and transporting ex-prisoners for the French underground.

His work during and after the war had the feel of his documentary films, and his pictures emerged as a stunning reportage of the underground resistance and the political drama of postwar Europe.

In 1945, under the aegis of the U.S. Office of War Information, Cartier-Bresson directed "The Return," a highly praised documentary on the homecoming of French prisoners of war.

In 1947, he joined Robert Capa and David Seymour in founding Magnum.

Since then, his photos have been featured in one-man shows in major museums and galleries worldwide. In 1979, the cream of his work was shown at New York's International Center of Photography and then toured for three years to 15 cities in the United States and Mexico.

Among the most famous of his dozen books is The Decisive Moment, published in 1952, which Cartier-Bresson prefaced with a quote from 17th century writer, Cardinal de Retz: "There is nothing in this world that does not have its decisive moment."

In the last 25 years of his life, Cartier-Bresson largely turned away from photography to embrace his first love, painting. By 1988, he was spending most days sketching in pencil or charcoal at his Paris home or at his retreat in southern France.

His Leica, protected by a handkerchief, was never out of reach.

In 1937, Cartier-Bresson married a Japanese dancer named Ratna Mohini. In 1970, he married Martine Franck with whom he had one daughter, Melanie.
[ skrevet av ladislav pekar ]