20041002 Richard Avedon, 1923 - 2004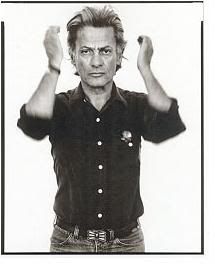 LOS ANGELES (Reuters) - Richard Avedon, one of the most influential portrait and fashion photographers of the 20th century, died on Friday at age 81 in Texas, where he had been photographing an essay on democracy for the New Yorker magazine, a magazine spokeswoman said.

Spokeswoman Perri Dorset said Avedon died of a subdural hematoma -- bleeding in the brain -- at Methodist Hospital in San Antonio, where he had been taken last Saturday after suffering a brain hemorrhage during the photo shoot.

Avedon became the New Yorker's first staff photographer in 1992 after a career in which he virtually defined fashion and portrait photography in the United States.

He was a consultant for the 1957 Fred Astaire and Audrey Hepburn film "Funny Face," about a fashion photographer in Paris which was based on his life.

From 1945 to 1965, he was staff photographer for Harper's Bazaar under a series of legendary editors, including Carmel Snow and Diana Vreeland, where he helped move fashion photography away from the world of stuffy mannequins into a more playful era.

After he left Harper's, he joined Vreeland at Vogue where he remained a staff photographer until 1990.

His portraits of such subjects as Jimmy Durante, Brigitte Bardot, Georgia O'Keeffe, Jacques Cousteau, Andy Warhol, Charlie Chaplin, Marilyn Monroe, the Duchess of Windsor and Truman Capote were intense studies against a white backdrop that often caught a person's secret persona.

He captured the essence of dancer Rudolph Nureyev by photographing his foot and his portrait of a sensual Nastassja Kinski in 1981 wrapped in a long python become one of the most talked-about photographs of its time.

"I've worked out of no's. No to exquisite light, no to apparent compositions, no to the seduction of poses or narratives. And those no's force me to a yes. I have white background. I have the person I am interested in and the thing that happens between us," he said in 1994 explaining his technique.

In 1958, Popular Photography magazine named him one of the world's 10 greatest photographers. In 1994 American Photo magazine named him number one on its list of "Photography's Top 100."

American Photo's editor David Schonauer, said at the time, "No one has ever used a camera the way Avedon has. Each time he makes a picture, it's like he's discovering the magic of photography again. For all their visual sophistication... his pictures derive their power from an ability to tap directly into our own childlike forbidden stare."

Avedon often left the realm of fashion to capture gritty real world images of the civil rights movement, the Vietnam war and the Chicago Seven trial.

His 1964 portrait of Dwight Eisenhower created controversy with its picture of the ex-president and wartime general as a befuddled old man.

Avedon was named the New Yorker's staff photographer in 1992 by then editor Tina Brown, who thought it was time for the august magazine to finally print photos. Avedon's 1963 portrait of Malcolm X appeared in the New Yorker on Oct. 12, 1992, to become the first full page photograph ever published in the magazine.
[ skrevet av ladislav pekar ]