20031028
" We have to replace beauty,
which is a cultural concept,
with goodness,
which is a humanist concept. "
[ skrevet av ladislav pekar ]





20031027 What is the truest definition of Globalisation?

Answer: Princess Diana's death.

An English princess with an Egyptian boyfriend crashes in a French tunnel, driving a German car with a Dutch engine, driven by a Belgian who was drunk on Scottish whisky, (check the bottle before you change the spelling) followed closely by Italian Paparazzi, on Japanese motorcycles, treated by an American doctor, using Brazilian medicines.

And this is sent to you by an American, using Bill Gates' technology, and you're probably reading this on one of the IBM clones, that use Taiwanese-made chips, and a Korean-made monitor, assembled by Bangladeshi workers in a Singapore plant, transported by lorries driven by Indians, hijacked by Indonesians, unloaded by Sicilian longshoremen, and trucked by Mexican illegals...

That, my friend, is Globalisation.

[ Forwarded by Shazalina ]
[ skrevet av ladislav pekar ]



Euro-English

The European Commission has just announced an agreement whereby English will be the official language of the European Union rather than German, which was the other possibility.

As part of the negotiations, Her Majesty's Government conceded that English spelling had some room for improvement and has accepted a 5-year phase-in plan that would become known as "Euro-English".

In the first year, "s" will replace the soft "c". Sertainly, this will make sivil servants jump with joy. The hard "c" will be dropped in favour of "k". This should klear up konfusion, and keyboards kan have one less letter.

There will be growing publik enthusiasm in the sekond year when the troublesome "ph" will be replaced with "f". This will make words like fotograf 20% shorter.

In the 3rd year, publik akseptanse of the new spelling kan be expekted to reach the stage where more komplikated changes are possible. Governments will enkourage the removal of double letters which have always ben a deterent to akurate speling. Also, al wil agre that the horibl mes of the silent "e" in the languag is disgrasful and it should go away.

By the 4th yer peopl wil be reseptiv to steps such as replasing "th" with "z" and "w" with "v". During ze fifz yer, ze unesesary "o" kan be dropd from vords kontaining "ou" and after ziz fifz yer, ve vil hav a reil sensibl riten styl. Zer vil be no mor trubl or difikultis and evrivun vil find it ezi tu understand ech oza. Ze drem of a united urop vil finali kum tru.

If zis mad you smil, pleas pas on to oza pepl. Zen ve vil rul ze vorld!

[ Forwarded by Azmi ]
[ skrevet av ladislav pekar ]





20031014
DBC Pierre wins the Man Booker Prize 2003

First time novelist DBC Pierre wins £50,000 with a satirical tale of contemporary America. Australian-born author DBC Pierre was tonight named the winner of the 2003 Man Booker Prize for Fiction with Vernon God Little, published by Faber & Faber.

Vernon God Little tells the story of a fifteen year old boy, who stands accused of a high school massacre. An unforgettable innocent, Vernon is surrounded by a cast of grotesque adults, all of whom are determined to see him as a scapegoat for their own failings. DBC Pierre's unique novel has been described as "like Flannery O'Connor on an overdose of amphetamines and cable television". DBC Pierre is an internationally published cartoonist, who was born in Australia, grew up in Mexico and now resides in Ireland.
[ skrevet av ladislav pekar ]





20031010







The Nobel Peace Prize 2003

The Norwegian Nobel Committee has decided to award the Nobel Peace Prize for 2003 to Shirin Ebadi for her efforts for democracy and human rights. She has focused especially on the struggle for the rights of women and children.

As a lawyer, judge, lecturer, writer and activist, she has spoken out clearly and strongly in her country, Iran, and far beyond its borders. She has stood up as a sound professional, a courageous person, and has never heeded the threats to her own safety.

Her principal arena is the struggle for basic human rights, and no society deserves to be labelled civilized unless the rights of women and children are respected. In an era of violence, she has consistently supported non-violence. It is fundamental to her view that the supreme political power in a community must be built on democratic elections. She favours enlightenment and dialogue as the best path to changing attitudes and resolving conflict.

Ebadi is a conscious Moslem. She sees no conflict between Islam and fundamental human rights. It is important to her that the dialogue between the different cultures and religions of the world should take as its point of departure their shared values. It is a pleasure for the Norwegian Nobel Committee to award the Peace Prize to a woman who is part of the Moslem world, and of whom that world can be proud - along with all who fight for human rights wherever they live.

During recent decades, democracy and human rights have advanced in various parts of the world. By its awards of the Nobel Peace Prize, the Norwegian Nobel Committee has attempted to speed up this process.

We hope that the people of Iran will feel joyous that for the first time in history one of their citizens has been awarded the Nobel Peace Prize, and we hope the Prize will be an inspiration for all those who struggle for human rights and democracy in her country, in the Moslem world, and in all countries where the fight for human rights needs inspiration and support.

- The Norwegian Nobel Committee | Press Release | Oslo, 10 Oct 2003
[ skrevet av ladislav pekar ]





20031005
COLORS | MUSIC | CUMBIA

Cumbia is the name given to a series of unfolding musical forms which originated on the Atlantic coast of Colombia as a hybrid of Amerindian instruments, African rhythms and European melodic structures. For centuries, the Atlantic coastal cities of Colombia – important trade points and ports for arriving immigrants – were exposed to musical forms from other parts of the Caribbean and Atlantic world, including Cuban rumbas, boleros, and Argentinean tangos. As Cumbia shifted and transformed itself to accommodate these new musical idioms, it never lost the irresistible backbeat that distinguishes this coastal music from every other form of well-known Latin dance music. This is why Cumbia resembles the rock-steady forms from Jamaica far more than it does the fluid forms of salsa and Afro-Cuban music. Cumbia was never meant to be contained by national boundaries...
[ skrevet av ladislav pekar ]





20031002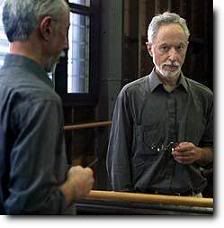 The Nobel Prize in Literature 2003

South African writer JM Coetzee, born 9th February 1940 in Cape Town, won the 2003 Nobel Prize for literature today. The Swedish Academy said his stories, set against the backdrop of apartheid, are "characterized by their well-crafted composition, pregnant dialogue and analytical brilliance." Coetzee was tapped for his ability to write fiction that "in innumerable guises portrays the surprising involvement of the outsider."

Coetzee was long a favoured contender for the prize, which is one of several Nobel Prizes to be awarded in Sweden over the next several days. The Nobel Peace Prize, due to be awarded in Oslo next week, is chosen by a committee appointed by the parliament of Norway.



Books by John Maxwell Coetzee

. Dusklands 1974 - includes The Vietnam Project and The Narrative of Jacobus Coetzee
. In the Heart of the Country 1976
. Waiting for the Barbarians 1980
. Life and times of Michael K. 1983
. Foe 1986
. Age of Iron 1990
. The Master of Petersburg 1994
. Boyhood 1997
. Disgrace 2001
. Youth 2002
. Elizabeth Costello 2003
[ skrevet av ladislav pekar ]





20031001
Coffeetable, 1944, glass top and wood base by Isamu Noguchi
[ skrevet av ladislav pekar ]